Guardian (Mar20,2k11)




Libya: the Arab view
Compared with the war in Iraq, regional reactions to western involvement in Libya have been cautious and muted
Martin Chulov with additional reporting by Enas Ibrahim
Update:
We Are All Khaled Said
the famous Egyptian revolution's news disseminator: has tweeted another Guardian story: Mohamad Nabbous was the first voice I heard on Free Libya Internet station on 17 Feb. He spoke for all Libyans & encouraged them to stand up for their rights & protest peacefully before Gaddafi's forces opened fire on them. He risked his life to spread international awareness about Libyans struggle just like I tried to do for Egypt on this page. Mohamad was killed in battle on 19 March.
Mohammad Nabbous, who set up an independent internet TV station in Benghazi, has been killed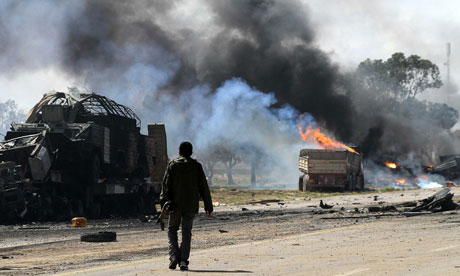 Egyptians strongly endorsed amendments to the country's constitution yesterday as aftershocks from the Arab spring revolts rumbled into the furthest reaches of the region.
More than 77% of the estimated 14 million-plus people who voted supported changes that will provide a blueprint for parliamentary and presidential elections to be held within the next six months.
Voting was mostly problem-free across the country, a significant result in a country that is emerging from more than three decades of dictatorship, when elections merely served to rubber-stamp ousted president Hosni Mubarak's rule, and voter turn out was low.
Elsewhere in the Arab world, tentative calls for democratic freedoms were met with force in both Saudi Arabia and Syria. In the Syrian town of Daraa, a second day of clashes with state security officers reportedly left one protester dead, in addition to the four reported killed yesterday.
A council building in the centre of town was burned down during the clashes. Some reports claimed it was a local headquarters of the Baath party, however they could not be verified.
In Saudi Arabia, where demonstrations are banned, protesters tried to force their way into the interior ministry in Riyadh demanding the release of prisoners who they said had been detained for up to two years without trial. Around 15 people were arrested, but no serious violence was reported.
However, the spectre of protests in the Saudi capital is something the Islamic kingdom's leader, King Abdullah, has been trying to avoid as he battles to contain an uprising in Bahrain on his northern border. The Saudi government holds grave fears that the Shia protests in Bahrain could stir unrest in eastern Saudi Arabia, which is home to most of the 12% Shia population.
Bahrain's rulers yesterday claimed to have uncovered a plot involving outside powers – an implicit reference to neighbouring Iran. The government asked Iranian diplomats to leave the tiny Gulf state and later called Lebanon's Hezbollah a terrorist organisation that was destabilising the region and impinging on Bahrain's sovereignty.
The unusually vehement tones underscore the sensitivity in the Gulf, where all the petro-states have been under pressure from their citizens to introduce widespread reforms.
Bahrain is in its second week of a three month period of martial law, which was introduced after weeks of violent clashes between citizens and riot police. The clashes have taken on a sectarian tone that the kingdom is anxious to play down.
Meanwhile, in the south of the Arabian Peninsula, the embattled leader of Yemen, Ali Abdullah Saleh, yesterday sacked his cabinet in the latest of a spate of moves designed to cling on to power. The clean sweep came two days after a massacre of more than 40 unarmed pro-reform protesters in the capital, Sana'a, which has drawn widespread condemnation and placed further pressure on Saleh to step down after more than 30 years in office.
The attacks on
Libya
have left the Arab world largely mute, unlike the opposition voiced before the last western assault on an Arab capital eight years ago.
Amid unrest and rebellion across the
Middle East
, a clear distinction has been made between the invasion of Baghdad and the bombing of selected targets in Libya. The former was widely condemned by many states that have had no such reservations about the bombing of Gaddafi's forces by US and European planes.
A key reason for that appears to be the west's stated desire not to overthrow Gaddafi but to leave his fate to be determined by Libyan citizens.
However, as the air campaign entered its second day, cracks began to appear in the regional solidarity on show last week when the Arab League voted in support of military action to protect civilians.
Read more
of this superb overview by clicking the live-link just preceding or the green blog-entry headline above. - Politicarp